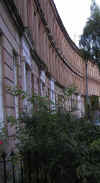 St Vincent Crescent is regarded as one of the most important neo-classical tenement terraces in Glasgow and throughout the whole of Scotland.
A beautifully designed serpentine crescent snaking along for almost half a mile, the Crescent and neighbouring Minerva Street were designed by the architect Alexander Kirkland (1824 - 1892) and built between 1849 and 1855.
St Vincent Crescent, the longest crescent in Britain outside Royal in Bath, is a Category 'A' listed building and is one of only two 'A' listed areas in Glasgow, the other being Park.